Experience The Benefits of IV Hydration
Our expert medical team researches and designs our IV treatments to deliver the most effective vitamins and hydration directly to your bloodstream circumventing the gut to completely absorb essential nutrients. Whether it's for overall health, wellness or recovery, IV therapy is a proven solution to get your body what it needs.
IV therapy can also deliver supplements only available through IV, like Glutathione, and high dose Vitamin C, bolstering your health above standard vitamins.
Call to schedule your IV Hydration Today 407-605-5335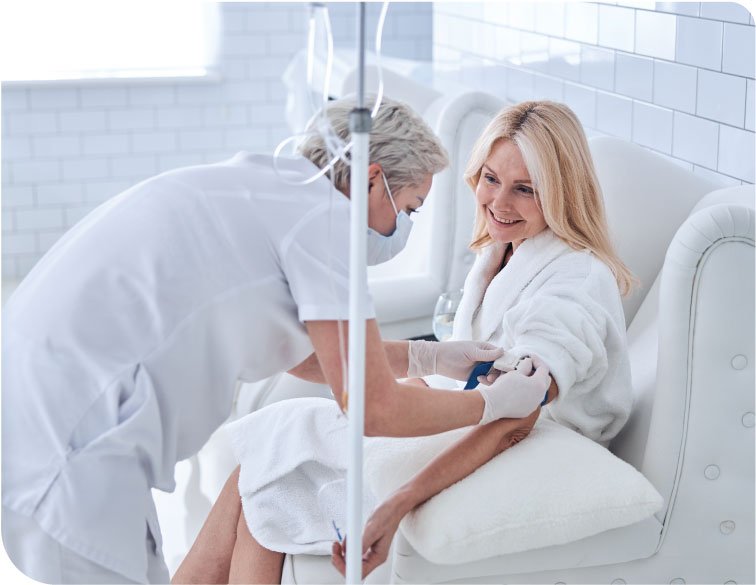 IV Therapy Menu
We offer a wide range of IV Therapy treatments, all designed to get your body what it needs.
Alleviate
Minimize Bloating, Irritability, Abdominal Discomfort and Lower Back Pain
Calcium Chloride / Magnesium Chloride / Olympia Vita Complex / Hydroxocobalaim
Immunity
Boost Your Immune System, Feel Better Faster
Ascorbic Acid / Olympia Vita Complex / Zinc Chloride
Reboot
Ease Hangover Headache, Nausea and Dehydration
Ascorbic Acid / Olympia Vita Complex / Amino Blend / Olympia Mineral
Get Up and Go
Burn Fat, Feel Energized and Boost Your Metabolism
Olympia Vita Complex / Amino Blend
Brainstorm
Improve Cognitive Function, Information Processing, Learning Memory
Folic Acid with B12 / L-Taurine / Alpha - Lipoic Acid
Inner Beauty
Fight Acne, Wrinkles and Tired Skin From The Inside Out
Ascorbic Acid / Olympia Vita Complex / Biotin
Myers' Cocktail
Great for wellness, immunity boost, chronic fatigue, chronic disease & digestive/malabsorption issues
Thiamine, Riboflavin-5-Phos, Pyridoxine HCL, Niacinamide, Zinc, Dexpanthenol, Magnesium & Glutathione
Quench
Hydrate, Combat Fatigue
Ascorbic Acid, Olympia Vita Complex, Olympia Mineral Blend
Recovery & Performance
Decrease Recovery Time & Enhance Your Performance
Ascorbic Acid / Olympia Vita Complex / Amino Blend / Olympia Mineral Blend